Our Daily Specials
Monday:
Meatloaf or
Ham Loaf
$10.49
Tuesday:
Baked Steak
$10.49
Wednesday:
Baked Spaghetti
(11-3 pm)
$10.49
Thursday:
Baked Steak
Fried Chicken
Chicken and Noodles
$10.49
Friday:
Perch Dinner
(11-3 pm)
$10.49
Saturday:
Baked Spaghetti
(11-3 pm)
$10.49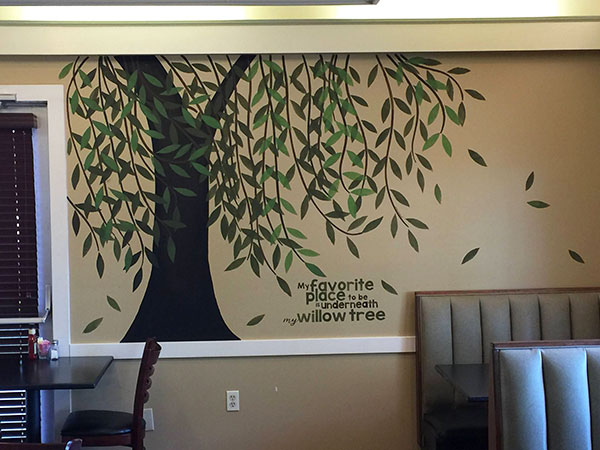 If American food is what's on your mind today, come in and check out The Willow Restaurant! Our family restaurant in Washington Court House has everything you dream about when looking for a great place to eat!
The moment you walk into our restaurant, you will fall in love with our ambiance and soon be impressed by our prompt service and tasty food. We hope that these will all come together to make a truly memorable dining experience for you and your family. Our passion is great food made with first-class ingredients and served with care. Whether you like a juicy steak, well-seasoned chicken, or first-class seafood, we're certain you'll find a few favorite dishes here. But whatever you like, be sure to try our hand-dipped onion rings!
CLICK HERE TO SEE WHAT PEOPLE ARE SAYING ABOUT US!
"Absolutely my favorite restaurant! I have never EVER had better service. The staff is THE BEST!!! The menu has such a great variety, it is hard to choose. Everything I have tried is excellent. They exceed expectations in every detail!!!"
– Penny B.
"Best place in WCH by far! We always receive our food exactly the way we ordered it and it is always amazingly good! I love the Onion soup!!!"
– Natasha H.
"Great place to eat! Wonderful food."
– Kendy T.
"I ordered the filet mignon last night, ordered medium well and butterfly cut. It was the best steak I have ever had! It was so flavorful and tender enough to cut it with a fork. Service was good as always. Highly recommended!"
– Leslie H.
"The friendliest waiters ever and the food is the best around. The Sunday buffet is wonderful!"
– Susan E.
"Best Prime Rib sandwich ever. Also great fried mushrooms and chicken bacon ranch wraps"
– Kristina M.
"Excellent service, staff very friendly and personable, food is good. Great prices"
– Kristina W.
"Best place in Fayette County to get a home-cooked meal for an affordable price. Great family friendly environment! Kelly and Denny are so nice! Everyone treats you like one of their own!"
– Jess K.
"Service was excellent. We had steaks, prime rib and ribs for dinner. The food was cooked and seasoned to perfection. We also had the appetizers and salad bar. I felt the prices for the meal was very reasonable. We will be back and so will the other couple that was with us."
– Mary A.
"Loved it, service, food and people!!"
– Dianna C. And those are just a few of our recent reviews! Read more on any of these sites!
[widgets_on_pages id="Social Media"]